New Doctor Who spin off: Class
Episodes 1 (For Tonight We Might Die) and 2 (The Coach With The Dragon Tattoo) will be available on BBC Three on Saturday 22nd October 2016!
"Time has looked at your faces now. And time never forgets…"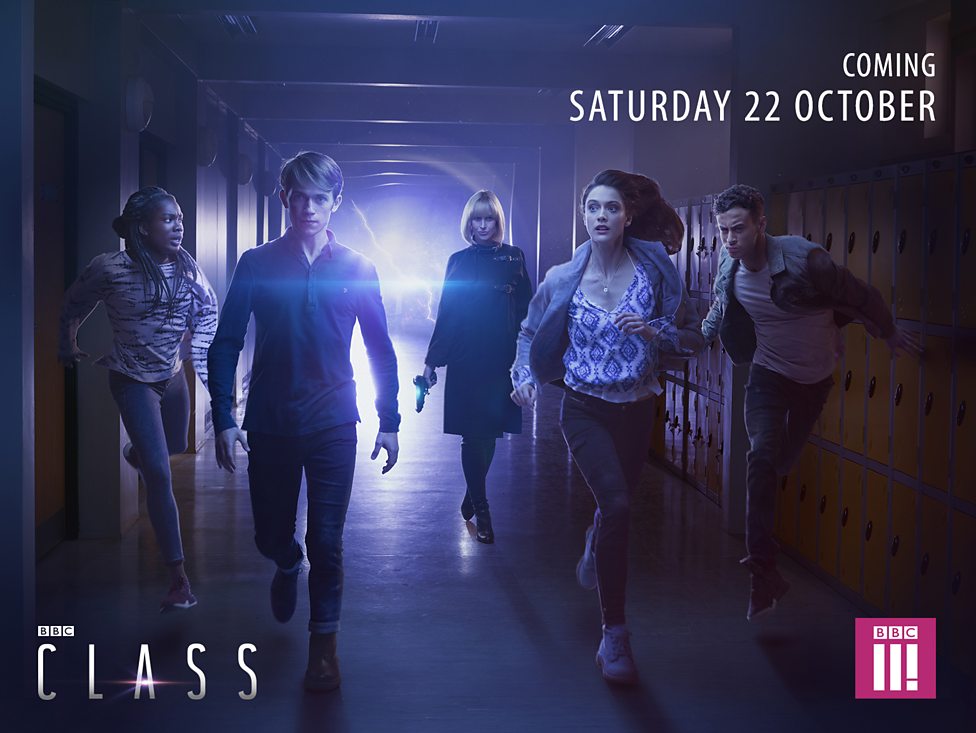 What if your planet was massacred and you were the sole survivor?
What if a legendary figure out of space and time found you a place to hide?
But what if the things that want to kill you have tracked you down?
And worst of all, what if you haven't studied for your A-Levels…?
Class is coming, are you ready? 
"Class is an exciting new drama series, spinning out of the world of Doctor Who and written by acclaimed YA author Patrick Ness. This 8 x 45 minute series for BBC Three centres around Coal Hill School in Shoreditch, which has been a part of the Doctor Who Universe since the very beginning. But this has come at a price…
All the time travelling over the years has caused the very walls of space and time to become thin. There's something pressing in on the other side, something waiting for its chance to kill everyone and everything, to bring us all into Shadow.
Four Coal Hill School sixth formers (played by exciting young new talents Greg Austin, Fady Elsayed, Sophie Hopkins and Vivian Oparah) will face their own worst fears, navigating a life of friends, parents, school work, sex, sorrow – and possibly the end of existence. They will be joined by Katherine Kelly, as she takes the role of a teacher and powerful new presence at Coal Hill School.
Scary, funny, as painful and sharp as youth, and with all the action, heart and adrenaline of the best YA fiction, this is Coal Hill School and Doctor Who like you've never seen them before.
Fear is coming, tragedy is coming, war is coming. Prepare yourselves, Class is coming."
Source BBC3
Are you a Whovian? Are you excited about Class? Let us know what you think in the comments!
All images are from the official Class facebook page.
Related Stuff:
Teaser Trailer: A Series of Unfortunate Events (A Netflix Original Series) – Easter Egg
TV Horror: Resurrection – There's More to Horror than Zombies and Stephen King
Get involved
Want to reach thousands of young Cardiffians? Submit your news here or register to become a contributor.
Want to become a reviewer? Join the Sprout Editorial Group on Facebook or email tom@thesprout.co.uk.
Click here for the next Sprout Editorial Group meeting:

Comment below:
It's free and quick to comment below but we recommend signing up with your email or as a guest to keep usernames Sprouty and anonymous (and never post personal details!).
If you want more info on staying safe online, check out our online safety section.
---
Have your say