Queen of the Sky
Monday 16th November 2015
I really had no idea what to expect walking into St David's Hall one drizzly Monday evening, as I'd never heard of Pam Ann and hadn't really done any research into the show or what it could possibly be. "It's about flying," my friend rather ambiguously told me. With that in-depth report in hand, I filed into the auditorium and took my seat. The lights dimmed, the disco lights came up, Madonna's Living for Love starts blaring. A profanity-laden welcome video builds up the excitement, palpable in the theatre. Out onstage troddles a bright red suit and black cape filled up with someone who's definitely not Madonna. She doesn't walk with the confidence of Madonna and she isn't singing. More sort of crawling around on the floor ("This is how I got here," she rather off-handedly remarks). If I was confused about what I was supposed to be watching before, I'm now completely lost. It wasn't at all the strongest of openings.
This level of confusion continues for quite some time. Seemingly without any particular area of focus, Pam Ann (real name Caroline Reid) continues to ramble on asking different parts of the audience to cheer for her before launching into jokes regarding the recent Paris attacks. Too soon? Perhaps, but either way, she goes for it completely. It took me a while to "get" her sense of humour, but once it all clicked into place, I was laughing along with the rest of them. Her humour is completely and utterly offensive to every type of person imaginable, and definitely not suited to those with sensitive dispositions or those who dislike profanity.
During her show, the self-titled Queen of the Sky manages to make jokes about Muslims, Asians, the gays, the lesbians, the transgender community, the disabled, the Down Syndrome community, the Australians, the… you know what? Let's just say everyone. She offends everyone. And it's exceptional. Her hold-no-bars approach worked wonders for Joan Rivers and it works well for herself.
With the theme of all her work being aviation and the world of flying, she mercilessly addresses immigration, Malaysia Airlines, cabin crew, pilots and their promiscuous behaviour, and anything else you can imagine.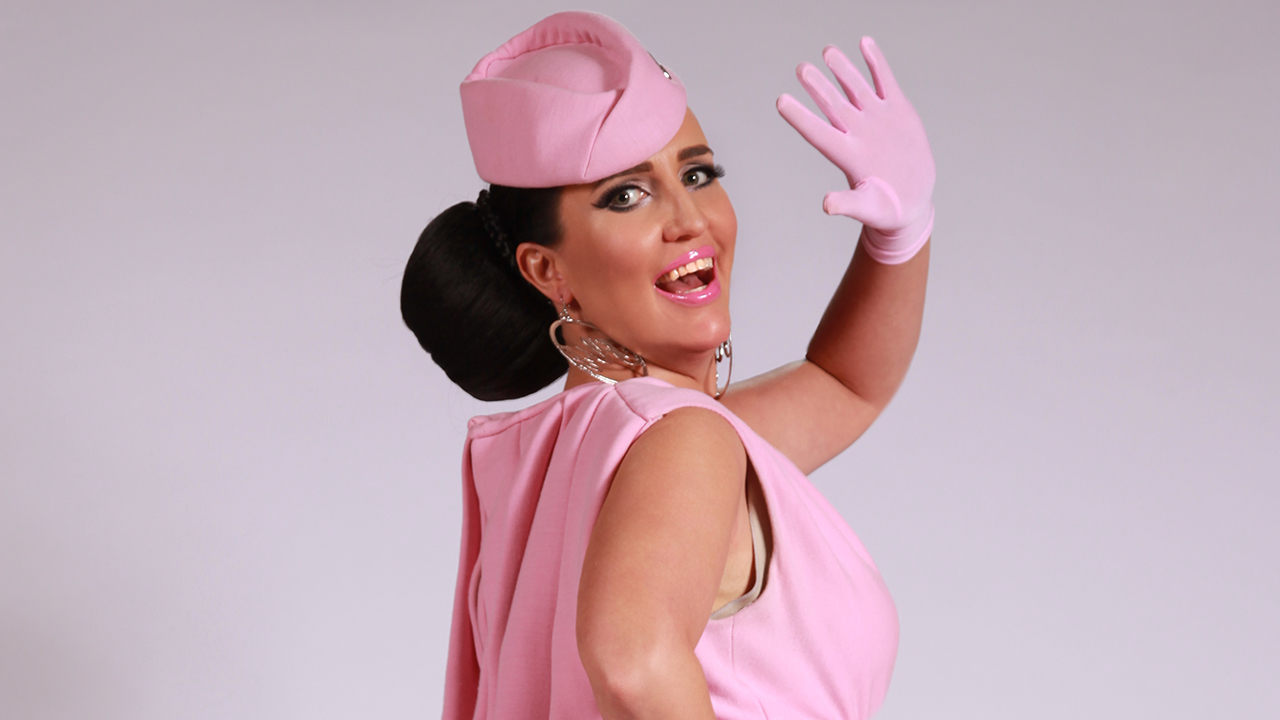 Source: Pam Ann website
While her show sometimes lacks clear focus or rehearsal, leaving the audience feeling a little underwhelmed, it also at times enters a wonderful flow, and you can see the Queen really getting engaged in what she's doing, which gives refreshing life to the spectacle. At one point, I became light-headed from laughing too much. Always a good sign.
The gays are her best friends, and, like a Mother Hen (or perhaps just an over-dressed Fag Hag) she leads them in rebellious glory, from cocaine to champagne, with all sorts of substances being glorified, and sex hailed to deity-level.
All in all, Pam Ann might not have the clearest intent or focus with her show and her material might be hit or miss, but she delivers it all with so much conviction, charging forward completely confident in her ability, that the audience, this reviewer included, are more than willing to forgive that.
***Got opinions? Bored? Like winning stuff? Fill in theSprout Satisfaction Survey!***
Get involved:
Want to reach thousands of young Cardiffians? Submit your news here or register to become a contributor.
*Want to become a reviewer? Join the Sprout Editorial Group on Facebook or email tom@thesprout.co.uk.
Click here for the next Sprout Editorial Group meeting.

Comment below:
It's free and quick to comment below but we recommend signing up with your email or as a guest to keep usernames Sprouty and anonymous (and never post personal details!).
If you want more info on staying safe online, check out our online safety section.
---
Have your say